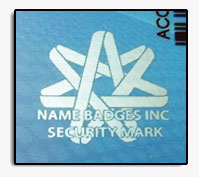 High Security ID Cards
Our machines are able to produce an encrypt magnetic strip
access cards along with high security bar codes. We can also
brand the card with a state of the art holographic logo.
These holographic images are extremely hard to replicate
and can be fused to any type of ID card.
They have a tamper resistant coating, which will destroy
the finish in the event someone tries to remove the holograph.